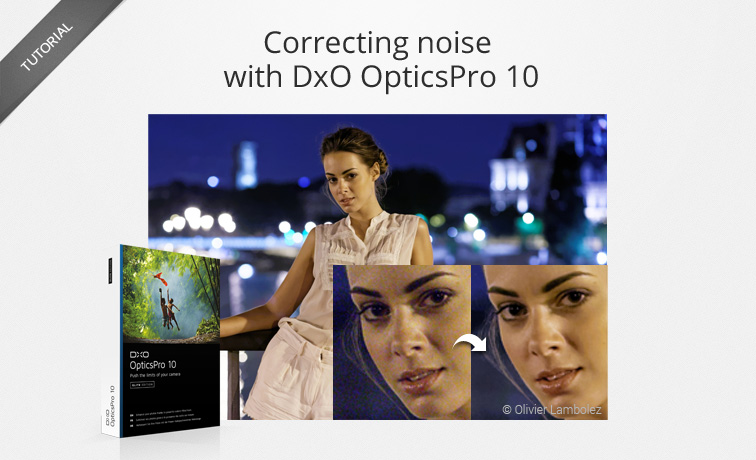 In collaboration with Christophe Gressin
In this tutorial, we will show you how to use two different modes for optimally correcting the digital noise in your photos, High Quality and PRIME. We will also explain how you can create a custom preset for reproducing your corrections.
To follow this tutorial, you will need:
DxO Optics Pro 9 Standard or Elite Edition.
Some photos in RAW format.
1
Understanding digital noise
What is digital noise?
Digital noise is parasitic information that occurs in a random and unpleasant fashion in certain parts of photos. It is particularly noticeable in the darkest and/or most uniform areas in an image.
Digital noise generally appears when photographers increase the shooting sensitivity (ISO), but it also can occur when they strongly lighten the dark zones in their images during post-processing.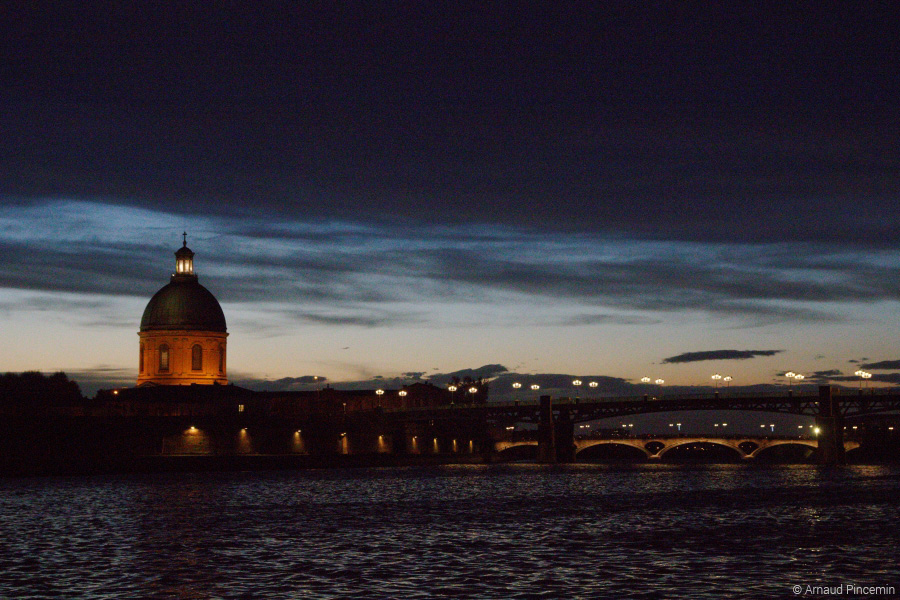 The quality of the sensor, in particular its ability to recover information in the darkest areas, is an important factor in the appearance of noise in an image. To learn about the quality of your camera sensor, go to the DxOMark website, where you will find evaluations about most cameras on the market. The higher the grade for "Sports (low-light ISO)," the better your camera is in this regard. The grade for "Dynamic Range" is also useful for finding out how well your sensor recovers information in low light.
Noise occurs mainly in the following situations:
Sports photos (particularly indoors), and concert photos, or whenever you have a very short exposure time in low light.
Night or interior photos when not using a tripod.
Here are some tips for minimizing the appearance of noise in your images:
Correctly manage your exposure: as noise largely appears in the darkest areas, and correcting overexposured areas can generate much less visible noise, be sure to correctly expose your photo upon shooting — and in fact, you may need to slightly overexpose the shot (taking care not to burn the highlights) so as to limit how much you will need to deal with noise in the shadows.
Whenever possible, use a tripod for your night and interior shots; this way you won't need to worry about exposure time and you can shoot at a nominal sensitivity.
And above all, shoot in RAW: that way you will have many more possibilities when correcting your images!
The different kinds of noise
There are two main kinds of noise:
Luminance noise is composed of noisy bright pixels that give the image a grainy appearance, somewhat similar to analog film grain.

Chrominance noise manifests itself as clusters of colored pixels, usually green and magenta.

Note
In addition to the two main types of noise, there is also coarser low-frequency noise, found in the most uniform parts of an image, as well as finer high-frequency noise.
Correcting digital noise
Cameras have made enormous progress in managing high sensitivities, and software applications have also increased their ability to correct digital noise; for achieve optimal denoising results, save your images in RAW to preserve all of the data captured by your sensor. In fact, with today's software, you can also reprocess the RAW images you took with an older camera and achieve significantly better image quality.
DxO Optics Pro 9's new PRIME technology, whose algorithms favor image quality above processing time, will let you go even further in correcting digital noise.

2
Correcting noise with DxO Optics Pro
2.1 - Apply the basic corrections
As soon as you open your photo, DxO Optics Pro automatically applies the DxO Standard preset, which is a set of corrections specifically adapted to your equipment.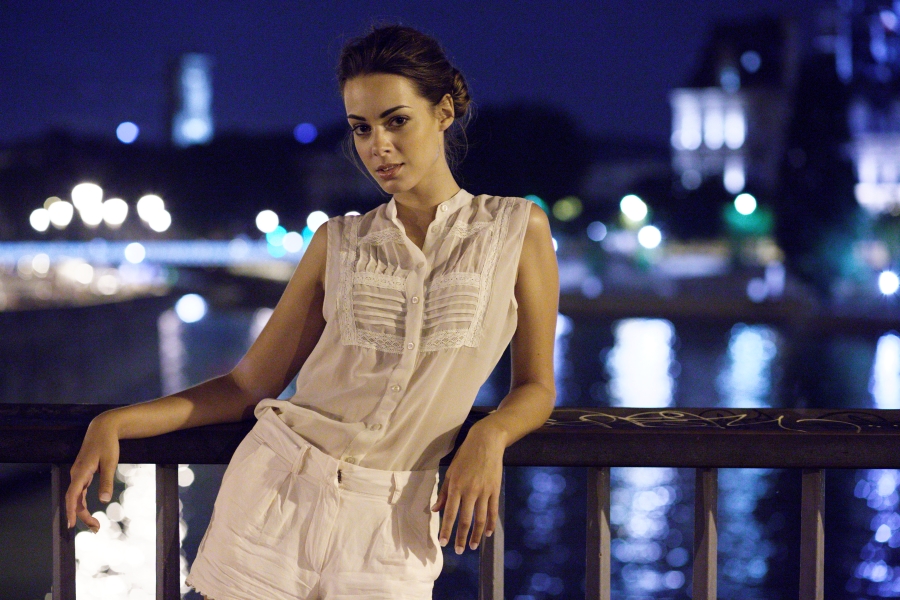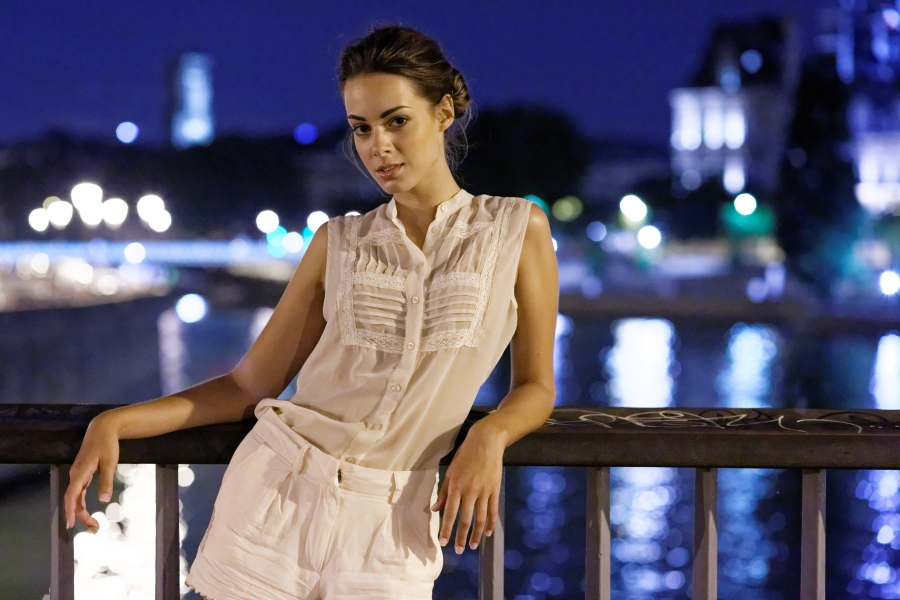 2.2 - Preview and adjust your corrections
In addition to the slider for correcting luminance noise, there are three other sliders that you can access by opening Advanced Settings.
Each slider lets you manually adjust the correction for an element of noise.
Note
The

button lets you return to the automatically-calculated correction value.
Situated above the sliders, the loupe tool lets you see the corrected area at 100%; you can change the area being displayed by clicking on the

icon and placing the preview frame anywhere in the image.
In the majority of cases, the default correction will be entirely satisfactory, but if the rendering achieved is not exactly what you are looking for, you can manually adjust the correction settings.
The Luminance slider lets you correct the eponymous noise element in your image, which is the principal adjustable variable: you can increase the value if there is any noise left in your photo after applying the automatic correction, or reduce the value if you find the rendering too smooth or if you want to give more texture to your photo.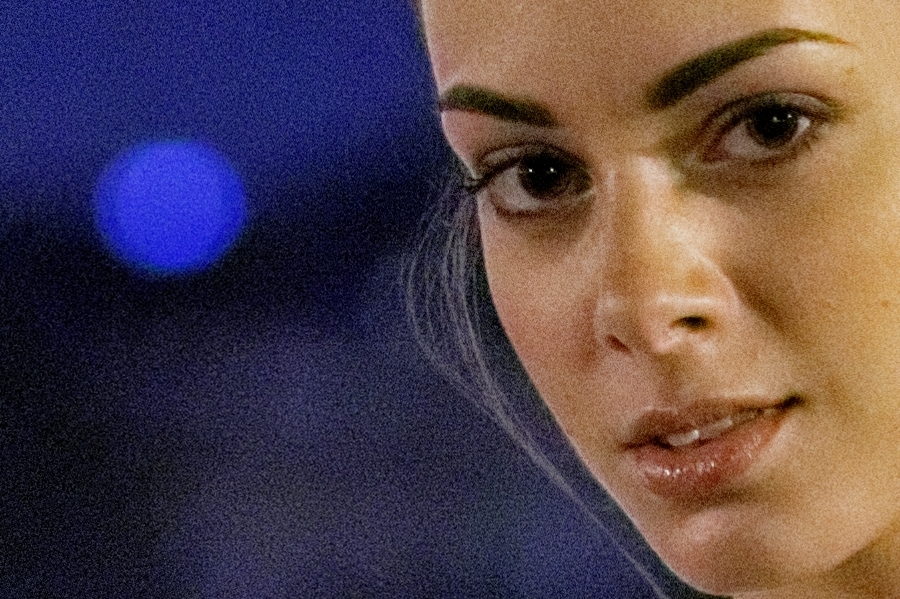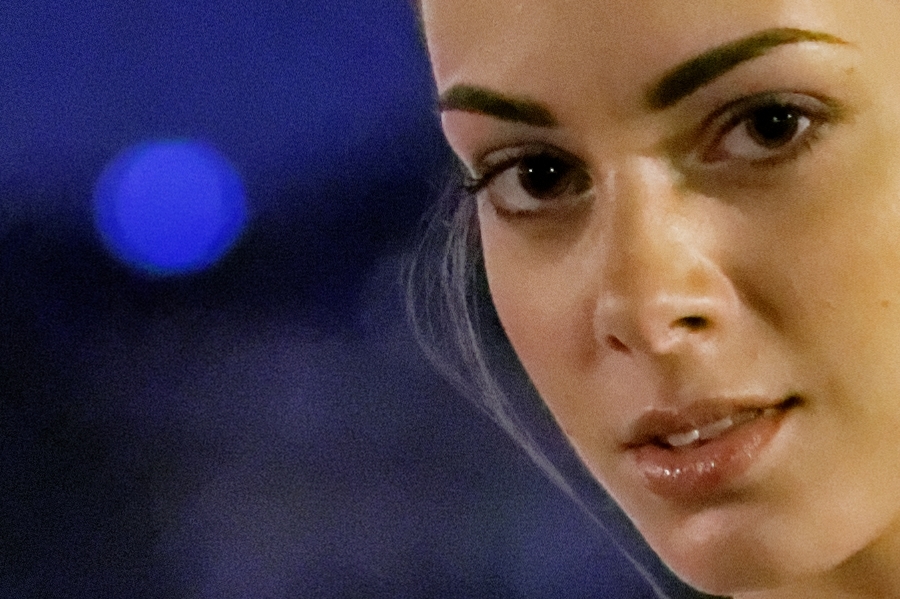 Tip
To best see the results of your corrections, display your photo at 100% by clicking on the

button.
2.3 - Choose PRIME for noisy and high-ISO images
For very noisy RAW images, or for photos taken with an old camera that could not shoot good-quality images at high ISO, DxO Optics Pro offers PRIME technology, which gives priority to image quality results instead of to denoising speed.
Note
If you select a JPEG file, not all of the sliders will be available and you will not be able to use the PRIME denoising correction.
PRIME technology is particularly useful for RAW images taken at higher than 1600 ISO. You should set your limit according to both your taste and your equipment. More recent cameras can manage high ISO better than older models. DxO Optics Pro's High Quality denoising algorithm provides excellent image quality, so we recommend that you reserve PRIME mode for the photos you take at high sensitivities.
To choose PRIME denoising, just click on the
button.
The

icon in the palette title bar reminds you that you will not be able to fully preview the results for your image; to get an idea of the rendering, you will have to use the loupe available above the setting tools.
Move the loupe to different parts of your image to see the rendering in different areas. Remember that PRIME technology prioritizes the rendering quality, and not the processing speed, which also means that refreshing the image (even in just the loupe preview window) can take a few seconds.
To see the rendering of your entire image, you will need to export it. Choose from among the standard output options to assess your results. You can always modify the correction by changing the values of the sliders.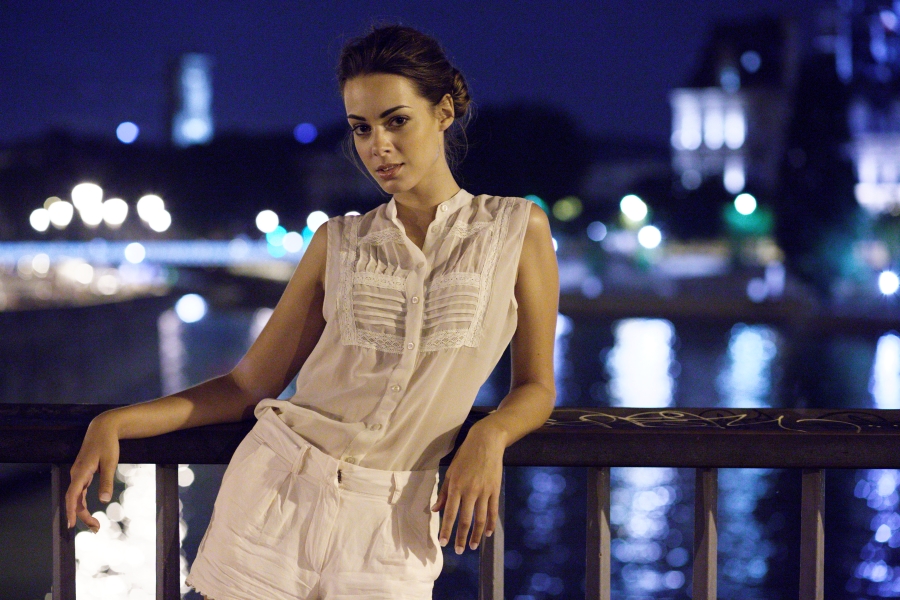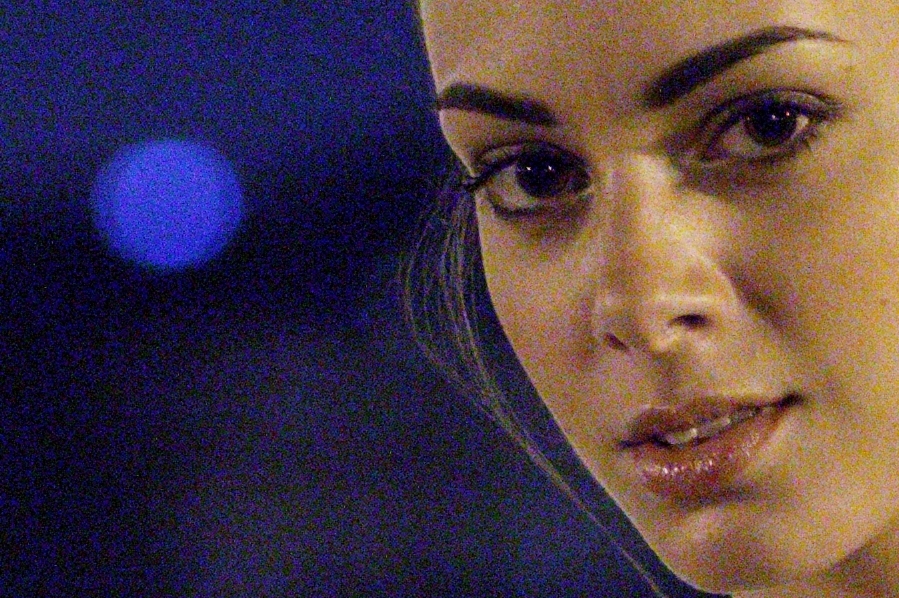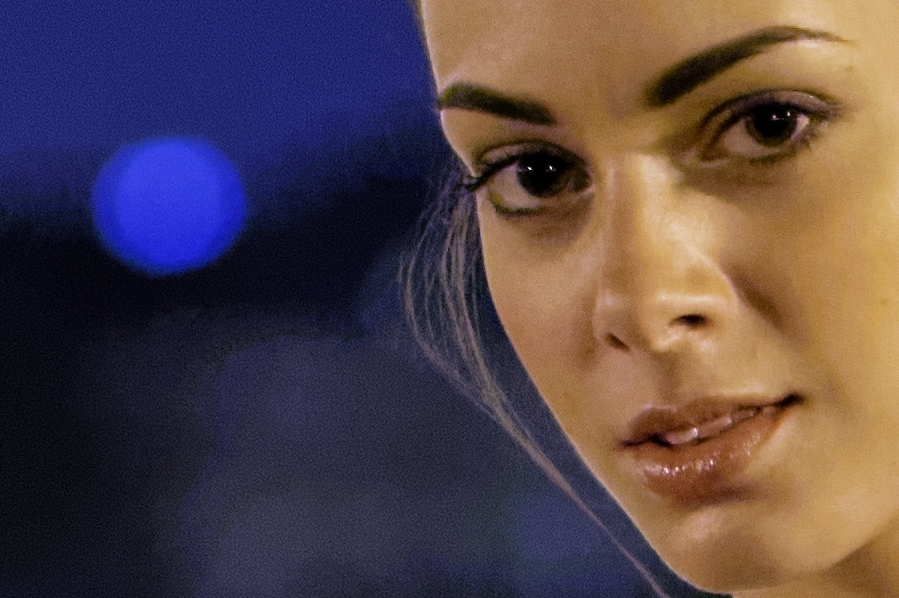 3
Going further: Creating a custom preset
DxO Optics Pro offers two modes of high-level automatic correction, both of which afford you complete control: you can use the available sliders to manually correct the digital noise in your images to achieve the rendering you want.
You can create a custom preset that will let you easily reproduce and re-use your correction settings. To do so, after you have applied your corrections, right-click on the image and select Create preset from current settings.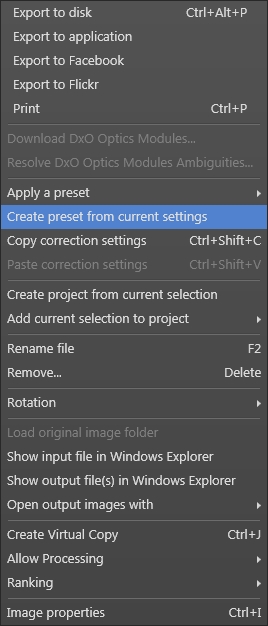 Name your preset in the dialog box that appears. This preset will let you apply all of the noise corrections that you have defined for your reference image. You may then want to consider replacing the DxO Standard preset with your own — which changes only the digital noise correction.
To do so, just go to General tab in Preferences window, accessible from the Edit menu (Windows) or the DxO Optics Pro menu (OS X), and replace the preset that will be automatically applied when you open a new image in DxO Optics Pro.
Alternatively, you can also create a partial preset in which you save only your noise corrections. To do this, just go into the Preset Editor palette, click on the Edit button.
In the right-hand pane, you can either include or exclude the settings that you wish. In this instance, uncheck all of the palettes except for Noise reduction.

Note
In Windows, the 3 denoising palettes never appear at the same time: whichever one appears depends on the format of the image file selected (RGB for JPEG images taken by cameras supported by DxO Optics Pro, Manual for images from unsupported cameras, and RAW for RAW-format images). For OS X, there is only one palette, regardless of the image format.
You can then apply your noise correction preset in addition to the automatically-applied default preset.
Photos credits: Arnaud Pincemin, Olivier Lambolez
Want to try out these tips?
Discover the latest version of DxO Optics Pro: push the limits of your camera and automatically improve the quality of your images!