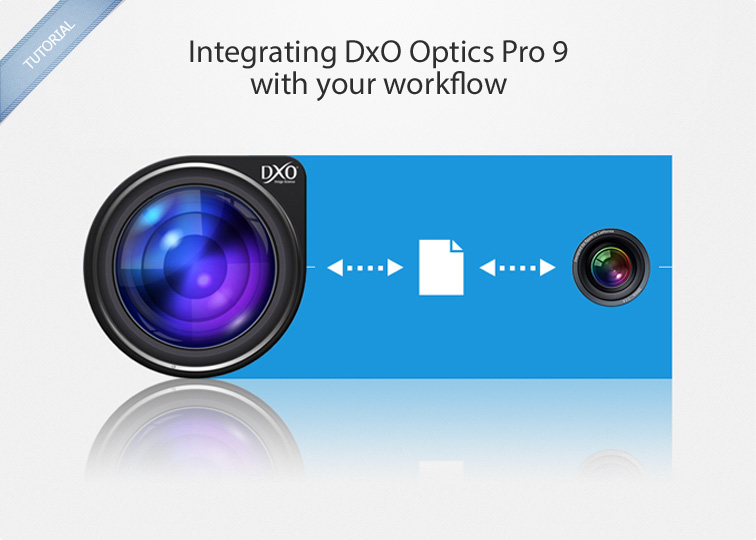 In collaboration wih Gilles Theophile
In this tutorial, we will present a workflow you can follow if you use DxO Optics Pro 9 and Apple® Aperture®, and how you can insert them into your usual photographic workflow.
In this tutorial, we will look at how DxO Optics Pro 9 can be used with other applications, thanks to (for example) its Export to application feature, but also how you can integrate it with a workflow based on Apple® Aperture®.
To follow this tutorial, you will need:
DxO Optics Pro 9.
Apple Aperture.
The Catapult® plugin for Aperture
1
The photographic workflow
A photographic workflow comprises all of the tasks that a photographer must do after shooting:
Storing images on a hard drive;
Cataloguing, organizing, or managing images;
Image processing and correction;
Exporting and distributing the images via slideshow, email, web galleries, or paper prints.
All of these tasks can involve many different software programs, which can greatly complicate the photographer's task — hence the popularity of so-called "workflow" software such as Aperture, which can handle all of these operations within the same application.
This said, many photographers prefer to use DxO Optics Pro for image processing so as to take advantage of its unique demosaicing algorithms and to ensure optimal image quality, while still using Aperture to manage and disseminate their photos.
The coexistence of two software applications that deal with RAW files is always complicated, given the lack of compatibility among the different demosaicing engines.
If you want to correct and process your RAW files in DxO Optics Pro 9 and then catalogue them in Aperture, there are solutions that will let you get around this problem, even if they may not be able to totally avoid certain complications.
In this tutorial, we will show you how you can manage the images you process in DxO Optics Pro.
Note
For details about features in Aperture, please refer to its user guide or other help resources.

2
Workflow with DxO Optics Pro 9
Case 1: From DxO Optics Pro 9 to Aperture
This is the easiest situation, as it does not require the use of any additional utility, unlike the other cases explained below.
Start by processing your images in DxO Optics Pro by making the corrections you want and then using the Export to application feature to export your image to Aperture. To do so, click on the Export to application button on the lower right and select Aperture.
Since DxO Optics Pro 9 saves its corrections in a separate file that uses the extension ".dop," and since those separate files are not visible to and cannot be interpreted by Aperture, you can mark or identify these images using the tools that this cataloguer provides.
You can, for example:
Create a project in Aperture that groups together images processed in DxO Optics Pro.
Assign a marker (e.g., stars or a keyword) indicating that the image was processed with DxO Optics Pro.
Export a JPEG image that was corrected with DxO Optics Pro 9 to add to the original image file in Aperture (and which you can also stack).
Case 2: From Aperture into DxO Optics Pro 9
Normally, Aperture will not let you send a RAW file to or open a RAW file in another application. Instead, in external editor or plugin mode, the host application will create a bitmap file (JPEG, TIFF, PSD) from the original. This said, Aperture has a utility that will let you open a RAW file: Catapult.
Aperture et Catapult
Catapult is a sophisticated tool that will not only let you send any Aperture file to a third-party application, but will also let you store .dop extension files generated by DxO Optics Pro that you can modify later on.
Here is the basic workflow:
1 - Select an image and go to the Photos > Modify with a plugin > Catapult menu.
2 - In the Export section of the window, choose DxO Optics Pro 9 from the Open with list.
3 - Leave the destination folder on Drop Folder and click on Export.
4 - The image will open in DxO Optics Pro 9 and you can correct it as you wish.
5 - Use DxO Optics Pro 9's Export to application feature to export the image back into Aperture.
6 - The image is automatically imported into Aperture alongside the original image. Further, the Catapult window will indicate that a file with a .dop extension has been detected and stored in the utility's Settings folder.

In DxO Optics Pro 9, the Process tab of earlier versions has been replaced by an exportation system that provides three options:
Export to disk: Processing and exporting images to your hard drive.
Export to Flickr or Facebook: Processing and transferring images directly to social networks.
Export to application: Processing and transferring images to a third-party application.
We will discuss this last option in this section. The Export to application feature lets you send the images in one application to another application so you can make additional corrections to them or catalog them.
This means transferring an image from DxO Optics Pro 9 into a catalog-based application (making image import obligatory)… but as such applications use their own demosaicing engines for converting your RAW files, you will need to leave the RAW workflow and generate a TIFF or linear DNG file (depending on the destination application) to take advantage of the corrections offered by DxO Optics Pro as well as Aperture's features. Here's how to proceed:
3.1 - Correct the image DxO Optics Pro 9 and export it to Aperture
Open an image in DxO Optics Pro 9 and make all the necessary corrections. After you have corrected your image, click on the small arrow to the right of the Export button located on the bottom left of the window, which will open a drop-down menu. Choose Export to application from the menu.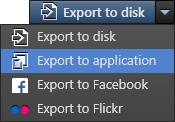 In the dialogue box, select the external application (in this case Aperture). In the Action menu, choose the file format and then adjust the quality setting. Finally, click on Export to open your image in the other application.
Tip
To maintain an optimal workflow when using these external applications, select the 16-bit TIFF format and do not resize the image.
If you would like to export your image from DxO Optics Pro into another application such as DxO ViewPoint or Adobe Photoshop, for example, proceed in exactly the same way as described above.
3.2 - Add the image to your cataloguer
After you click on the Export button, the image will be automatically imported into an Aperture Project. The image is ready for further correction and is also indexed and catalogued in the application database.
Reminder
In all cases, using Export to application means that you end up leaving a RAW workflow, assuming you want to preserve the processing you've done in DxO Optics Pro. Neither Aperture nor any other demosaicing program can interpret DxO Optics Pro's corrections — and vice-versa. This is why we advise you to optimize the processing chain by systematically choosing the 16-bit TIFF format when you use Export to application.
Discover our tutorial about the new workflow with DxO Optics Pro and Lightroom here. The goal of this tutorial is to present the new workflow between DxO Optics Pro and Adobe Photoshop Lightroom. DxO Optics Pro 9.5 offers new features that provide you with a simple and efficient way to take advantage of the power and quality of both of these software applications.
You can also follow these two tutorials, "First steps with DxO Optics Pro 9",and "First steps for advanced users of DxO Optics Pro 9", which will help you learn how to best use DxO Optics Pro's automatic features and many available correction tools.
Apple, Aperture, Mac OSX are trademarks of Apple, Inc., registered in the United States and in other countries. Other trademarks and trade names may be used in this document to refer to either the entities claiming the trademarks and trade names or to their products. DxO Labs disclaims any proprietary interest in any trademarks or trade names other than its own.
Want to try out these tips?
Discover the latest version of DxO Optics Pro: push the limits of your camera and automatically improve the quality of your images!