Learning Hub
Learn about the basics of DxO PhotoLab or hone your knowledge with tutorials designed to boost your creativity.
Getting started
Three-minute videos to get started with your software, step by step.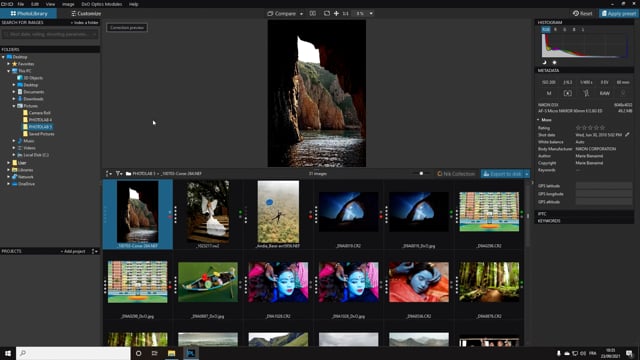 Chapter 1

/9
Access your photos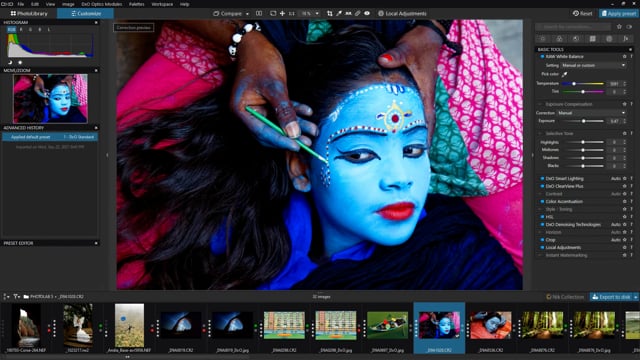 Chapter 2

/9
Learning about the correction tools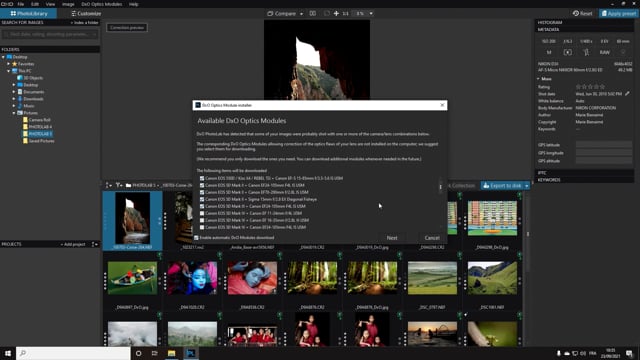 Chapter 3

/9
Editing your first photos
Understanding
Webinars with professional photographers to explore your software in depth.
Rediscover the Magic of Analog Film in the Age of Digital with DxO FilmPack 6
Tuesday, Dec. 14, 2021 10:00 AM PST/ 1:00 PM EST • English
A direct product of DxO's expertise as a pioneer of optical corrections, demosaicing, and denoising, DxO FilmPack faithfully reproduces the colors and grains of analog films. Trace the history of analog photography through 84 high-fidelity film renderings and much more!
More Webinars Coming Soon!
Making progress
10 questions about DxO PhotoLab.
Which edition is right for me: ELITE or ESSENTIAL?
DxO PhotoLab is available in two editions, ESSENTIAL and ELITE. They both offer support for the same camera equipment but differ in terms of the number of features they include.
---
What is the difference between the demo version and the paid version of DxO PhotoLab?
The demo version is a fully functional version of DxO PhotoLab ELITE Edition. You can test it for a period of 30 days. To remove it, you will need to purchase a full license and activate your software.
---
Do you offer a subscription system?
DxO PhotoLab is sold as a perpetual license meaning that no subscription is required to use it. Major paid updates, such as from DxO PhotoLab X to DxO PhotoLab Y, are offered regularly. Minor updates, such as from DxO PhotoLab X to DxO PhotoLab X.X, are free.
---
Can I use JPEG files with DxO PhotoLab?
You can certainly use this file format but you will have many more editing options with RAW files. For example, our revolutionary noise reduction technology, DeepPRIME, only works with RAW files. Likewise, using original RAW files with their EXIF data allows the software to automatically apply lens corrections that match your camera equipment.
---
How do I know if my camera/lens combination is supported by DxO PhotoLab?
DxO PhotoLab supports most of the equipment available on the market, including mirrorless cameras, DSLR cameras, compacts, hybrids, smartphones, and even drones! To find out if your equipment is supported, see the list of supported options here.
---
And if my camera/lens combination is not supported by DxO PhotoLab, can I still use the software?
Yes, you can absolutely edit your images in DxO PhotoLab even if your camera equipment is not supported. You will have access to almost all of the software's editing tools which you can adjust manually. Once you've entered your settings, you can even save them as well.
---
Is DxO PhotoLab compatible with Adobe Lightroom?
Yes, DxO PhotoLab features an integrated workflow experience with Lightroom Classic (version 3.0 and later). The software lets you transfer images in RAW format from your Lightroom catalogue to DxO PhotoLab, edit them, and then send back either a bitmap file (JPEG, TIFF) or a linear DNG file that includes all DxO edits or only the changes made with DxO's lens correction and denoising technology. This last option allows you to edit your photos in Lightroom Classic while also taking advantage of the best DxO technologies.
---
Should I continue to use Adobe Lightroom's cataloging features?
DxO PhotoLab has extensive file management functions in its PhotoLibrary, including indexing, keyword tagging, rating, picking or rejecting images, image search, and more. Its open system lets you access all of the images stored on your computer in a simple and intuitive way, allowing you to catalog your images easily.
---
Will I have to go through a tedious editing process to improve my images?
No, because DxO PhotoLab includes multiple automations and presets. When you open an image in the software, a set of corrections is automatically applied to help you get the most out of your shots. Optical defects, contrast, color rendering, saturated colors, and digital noise are all automatically corrected or optimized. You are then free to take control and fine-tune your settings.
---
Where can I find the price of an upgrade, my license numbers, and download links?
Your software licenses and download links are available on your customer account. You will be notified in that same space if you are eligible for a paid or free upgrade.
Digging deeper
A user guide to answer all your questions.
DxO PhotoLab 5 User Guide
Do you have a specific question? The DxO PhotoLab 5 User Guide has all the answers.