DxO PureRAW industry acclaim
It's like looking at a photo, then cleaning your glasses, then looking again.
Chris Davies, SlashGear
Quote 11
DxO PureRAW has become one of my favorite tools as it really helps with that finishing touch.
Bryan Esler, Photofocus
Quote 41
Highly recommended
FORBES
Quote 71
The results are pretty spectacular
DIGITAL CAMERA WORLD
Quote 101
DxO PureRAW brings DxO's fantastic post-editing technology to Adobe users—plus all the convenience of a Photoshop script
MAC PLUS
Quote 161
Exactly what I was missing in my workflow
DOCMA
Quote 191
If you want the sharpest, best-looking RAW files then give DxO PureRAW a try.
Jeremy Gray, Imaging Resource
Quote 22
Advanced Photo Software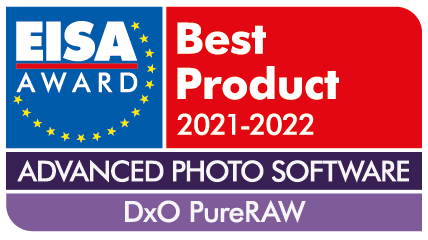 EISA 2021-2022 Award
DxO PureRAW is truly unique software
Quote 52
After using DxO PureRAW I'm sold
FSTOPPERS
Quote 82
DxO PureRAW is convincing in terms of quality
FOTOMAGAZIN
Quote 202
A revolutionary product. DxO PureRAW gets my highest recommendation.
Mel Martin, Fstoppers
Quote 33
Impressive image quality benefits with a minimum of fuss
DPREVIEW
Quote 63
DxO PureRAW is game-changing
PROFESSIONNAL PHOTO MAGAZINE
Quote 93
I can't recommend it highly enough if you want to get the clearest images possible from your digital camera
PCMAG
Quote 123
Overall, I am very impressed with DxO PureRAW
IMAGING RESOURCE
Quote 153
Should be included in every photographer's software library
CHIP FOTO VIDEO
Quote 183
Noisy images are a thing of the past thanks to PureRAW
CHIP FOTO VIDEO
Quote 213
DxO PureRAW  3
Supercharge all your cameras and lenses