Seamless integration with any workflow, including Adobe Lightroom and others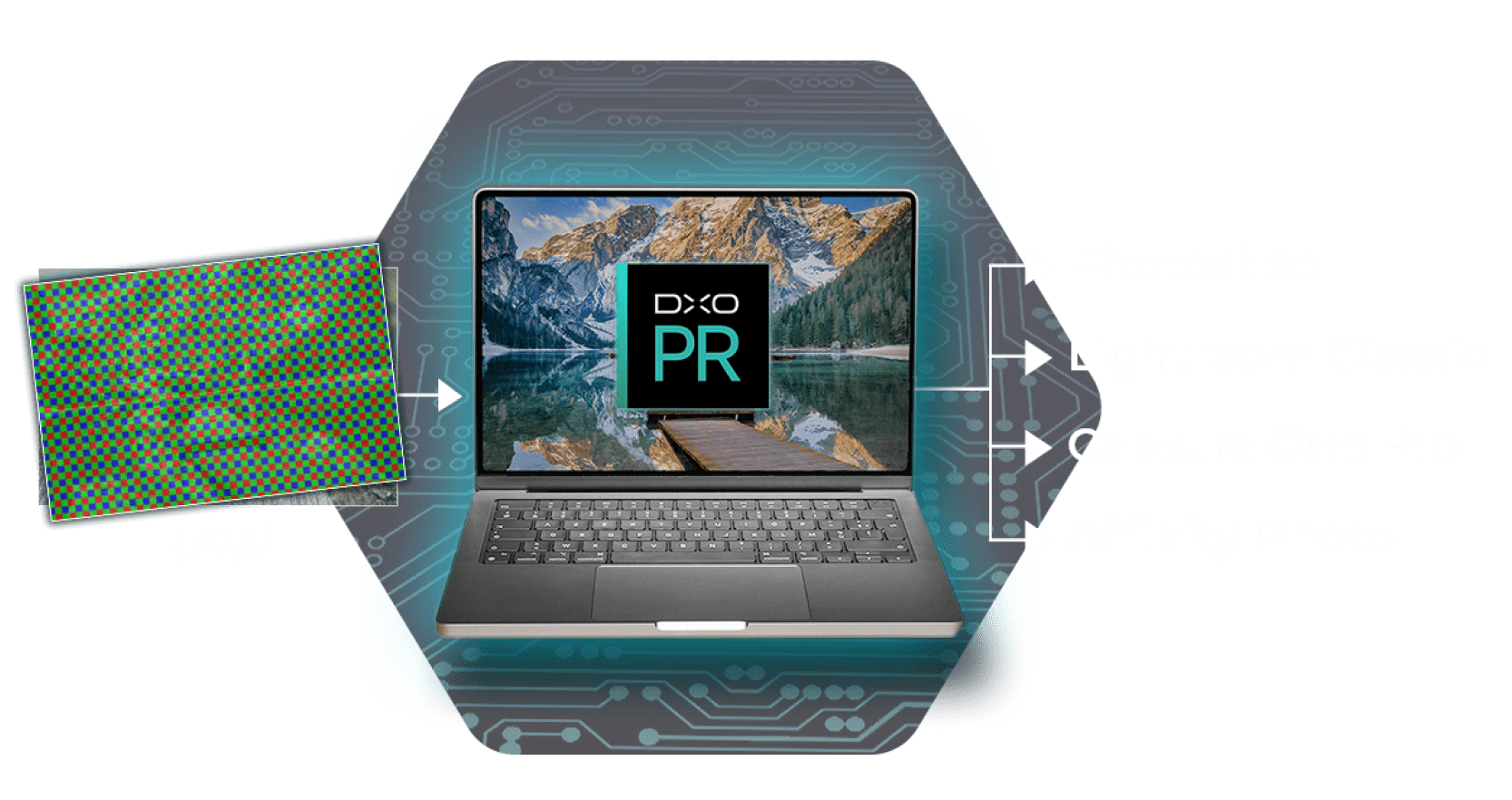 ©
DxO Labs - Scott Stulberg
©
DxO Labs - Scott Stulberg
Using DxO PureRAW is easy
Shoot in RAW
Send your files to PureRAW using one of the three methods outlined below
PureRAW does all of the processing for you
Receive a Linear DNG file — a purified RAW — ready for Lightroom Classic, Capture One, or any other photo editing software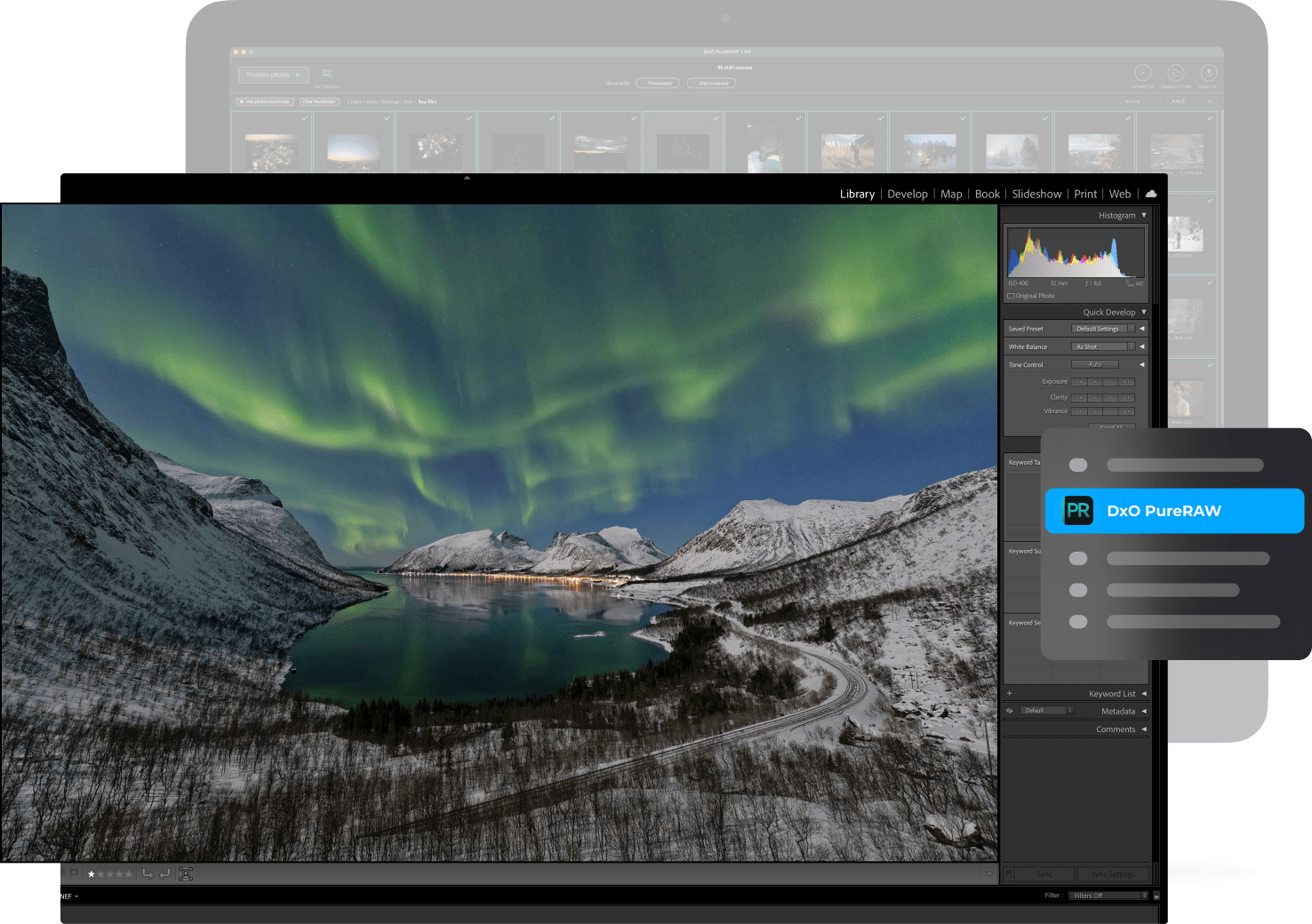 Aurora Borealis in Senja Island, Norway
Shooting settings:
Camera:

Canon EOS 5D Mark IV

Lens:

11 - 24mm f/4

Parameters:

ISO 1600 - 3.2 - f/4 - 13mm
Image processing:
NEW
Workflow 1:
From within Lightroom
Use DxO PureRAW  3 as an Adobe Lightroom plugin and apply gold-standard processing at any stage of your editing.
With automated synchronization, the newly created Linear DNGs drop straight into your Library, with full control over your Lightroom Collections. You can choose which Collection to add images to, keep images within an existing Collection, or create a completely new Collection.
Workflow 2:
From your file browser
Within File Explorer (Windows) or Finder (macOS), simply select the RAW or RAWs you want to enhance, right-click on them, and pick the 'PureRAW' option from the list.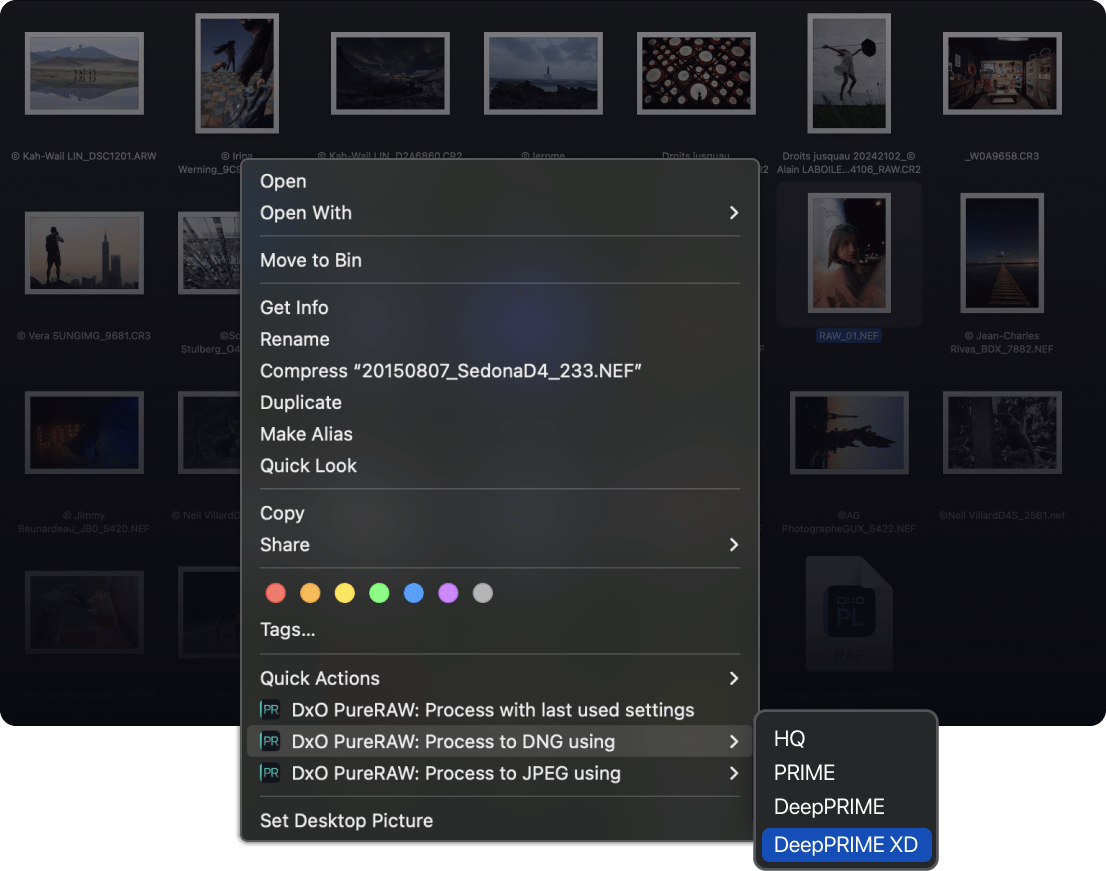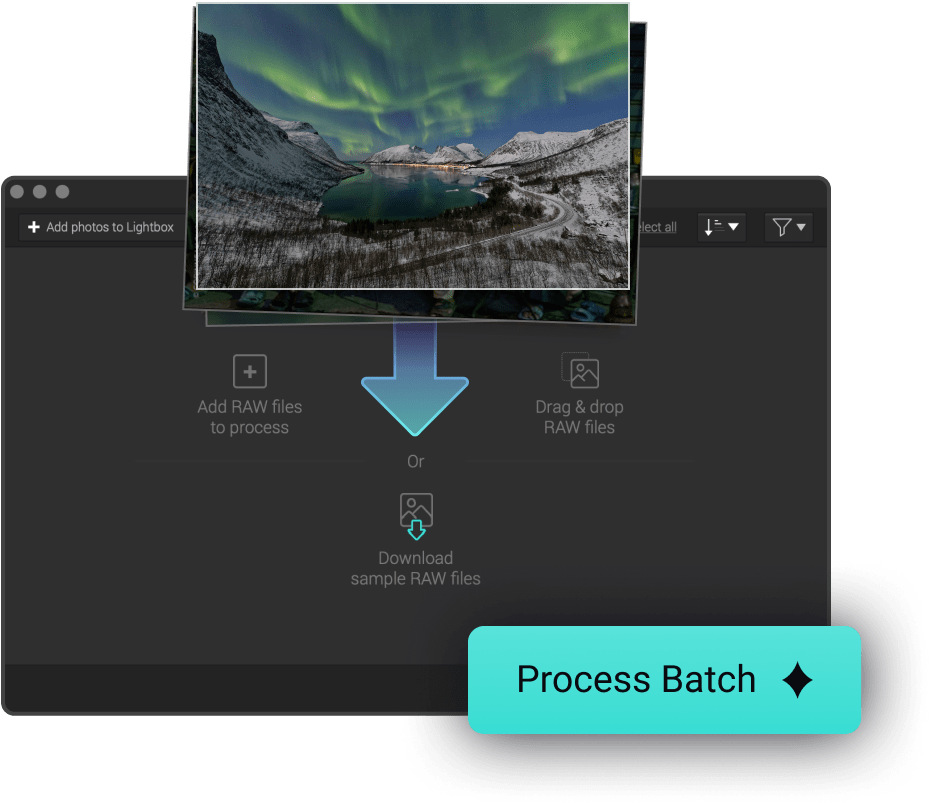 Workflow 3:
Drag and drop into the DxO PureRAW  3 interface
Open DxO PureRAW  3 and simply drag and drop the RAWs you want to convert into the window.
Once you've chosen output options, processing is automatic.
Customized processing to suit your workflow
More control if you need it
New features in DxO PureRAW  3 mean that you can tailor your pre-processing if required.
Toggle optical corrections for vignetting and chromatic aberration, and control the level of lens softness correction.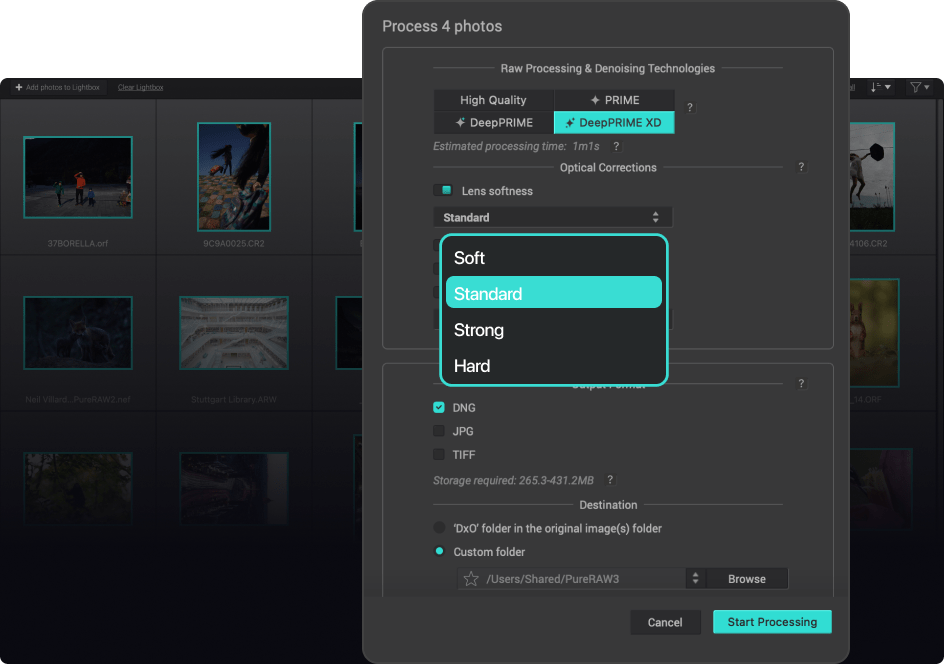 Batch processing is easy
Managing large volumes of RAW is no problem with DxO PureRAW  3. Just add the RAWs you want to convert to the queue and they'll be processed as a batch.
If you want to prioritize particular files, just drag and drop them to the top of the list.
Automatic exporting
Files can now be exported automatically to your software of choice. Simply select the location before you hit the 'Start Processing' button.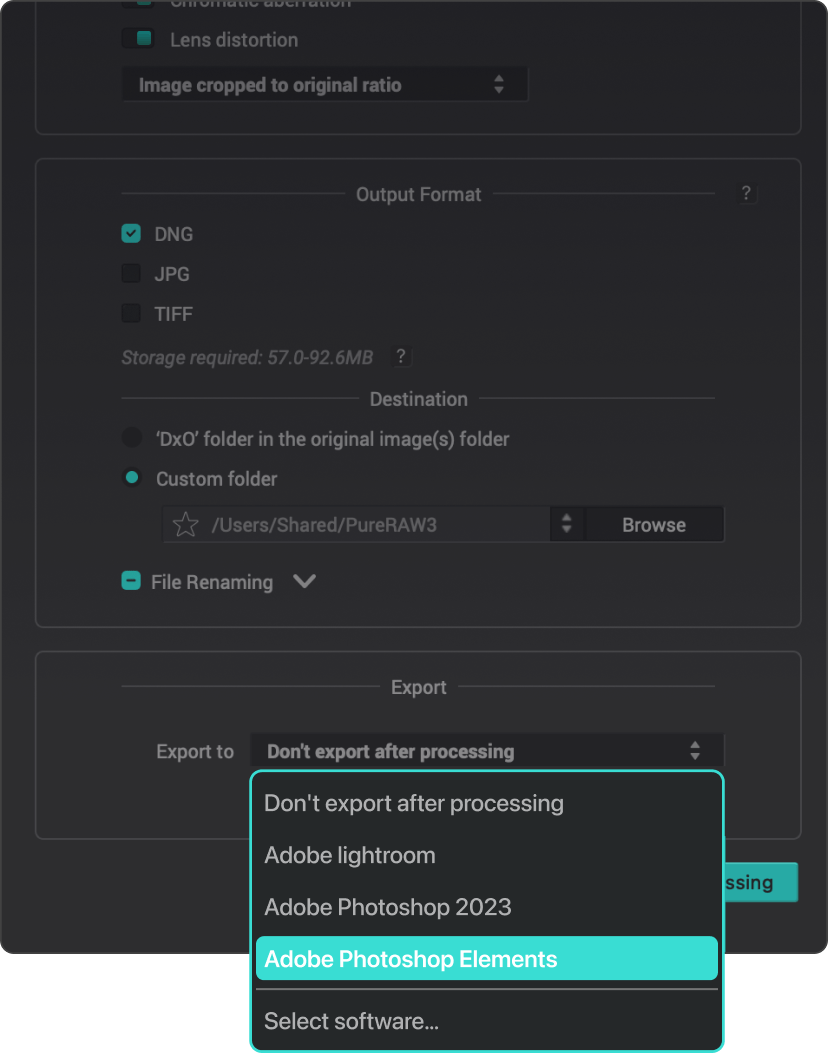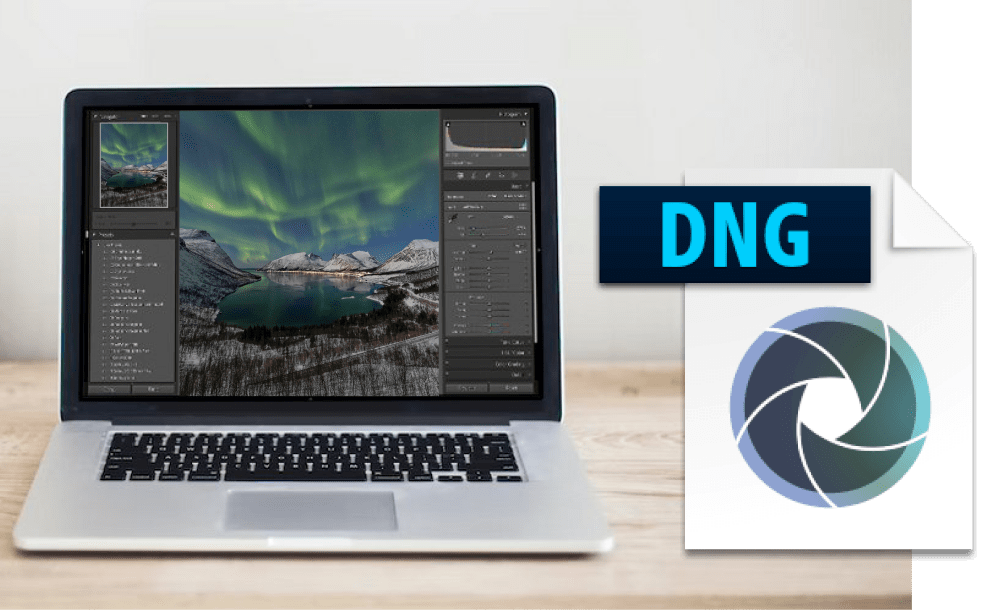 Linear DNGs work with all editors
Taking regular RAWs from almost any camera, DxO PureRAW  3 cleans and purifies files into a versatile Linear DNG format.
These files can be used with any RAW photo editing software — including Adobe Photoshop, Lightroom and Capture One.
DxO PureRAW  3
Supercharge all your cameras and lenses